Yesterday evening I ran out of food and had an urge to run a fast trip to Wal-mart to replenish my stash. These days going to Wal-mart has become a fun thing to do, almost like a field trip sometimes. Now, if you are rolling your eyes, let me explain:
I live in this town in Florida called Tallahassee. No wait, it's not a town, it's the capital of Florida. If you expect the capital of Florida is somewhat like New York or Miami, you're wrong! It's a quite peaceful town where everything you need is around you in a 3 mile radius. I'm not kidding! There are 5 main streets and they all have the same things: hotels, motels, restaurants, fast-food joints, drug stores, and grocery stores. However, there are only 2 Wal-marts in town so depending on where you are, going to Wal-mart can be a fun trip. Luckily, the street where I live has a mall, a Wal-mart, a Target, a Walgreens, and 2 CVS. What else does a girl want except a Sephora and maybe a MAC store? (we don't have Sephora and MAC store here, boo!)
The Wal-mart where I live is a Super Wal-mart where I can get food as well as other things, kind of like a one-stop shop, which is convenient sometimes. However, their makeup stock is not that great. I got my Cover Girl LashBlast mascara about 3-4 months after the launch. Fancy stuff like L'Oreal HIP is not there and Milani is definitely not there as well. So I was quite surprise to see some certain perfume items on sale today. And they have testers available so I doused myself with 3 different perfumes.
Perfume #1:
M by Mariah Carey
Cute isn't it? I like the bottle's purple color very much!
This is Mariah's first perfume and I was surprised of how wearable it is. When it came out last year, I sniffed it from a tester strip and immediately said "Ew! What a crack up perfume!" Then I proceeded to forget its existence until yesterday when I saw it at Wally World.
The Wal-mart version is a 0.5 oz size which is much smaller than the 1.7 oz size sold in the fancy department store. The price is $18 something, almost $19 which is affordable to the Wal-mart shopping demographics. The bottle is really cute and small with a nice purple color and a butterful as the cap.
According to
Now Smell This
, M is "a floriental with notes of marshmallow, sea breeze accord, Living Tahitian Tiare, gardenia, sheer amber, patchouli and Moroccan incense". On me, it smells very much amber and indescribably familiar. While I went around Wal-mart, I coudn't help but wondering where I had smelled this before. It took me a while until I realized I pretty much shower with the same scent every single day!
People, my body wash is Sensual Amber from Bath and Body Works and it smells almost like an identical twin to M by Mariah Carey. I kid you not! The same amber scent, the same incense touch, the same sweetness for a lot cheaper.
On top of that, Sensual Amber has its
eau de toilette
for $18.50, that's the same price as the 0.5 oz size of M!
The bottom line: although I like M and love Mariah, I would take a pass for this perfume. Sensual Amber is doing fine for me.
Perfume #2:
Baby Phat Seductive Goddess Perfume
Based on my research, Seductive Goddess notes include bergamot, citrus, black rose, purple violet, leather, vanilla, labdanum and patchouli. However, my oldfactory memory registered something else, something ancient, something my grandma used to wear...when she was sick: Eagle Brand medicated oil!
Eagle Brand medicated oil, aka the green oil, is the most utilized medicated oil in Asian countries. I remember growing up seeing my grandma dabbing it to her temples and her body "to prevent the bad air". When she gently rubbed some of the green oil on me, I ducked like crazy because I just simply could not tolerate the smell. It has a very weird scent that either you hate or love. Some people I know always carry a bottle of this stuff with them all the time while I would rather throw up than being rubbed down with the oil. In fact, I did throw up some couple of times when I smelled it!
So the bottom line is Seductive Goddess brought back such a bad olfactory memory (that's fancy word for "some smell that I smelled in the past"!) Needless to say, I don't like it but now since it died down, I can pick up some patchouli. But still, it's a pass for me.
Perfume #3:
Celine Dion Sensational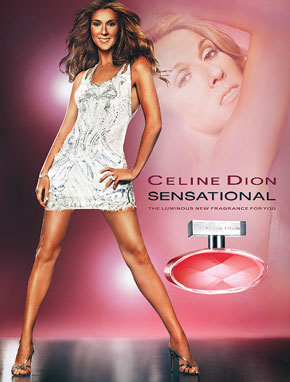 She got nice gams!

Celine is a diva in a good way, and as a diva she got perfumes. Not only one but a whole bunch: the original Celine Dion perfume (2003), Parfum Notes (2004), Belong(2005), Always Belong (2006), Celine Dion Enchanting (2006), Spring in Paris (2007), Paris Nights (2007), and Sensational (2008)!

Holy moly, she totally pwns JLo! And I'm not complaining because she has her Grammys to prove. Talking about Sensational, what drew me to it was the bottle: it has a nice blushing pink color that screams "touch me" from afar. According to "Now Smell This", the perfume has "heart notes of orris and mimosa to reflect Dion's sensual, delicate and vibrant sides". The perfume compositions are: top notes of icy pear, crisp apple and plum; heart notes of jasmine and freesia, and base notes of amber, musk and sandalwood.

This perfume is extremely wearable and not so volatile at all. It smells quite powdery and mellow on me like how a sensual woman should smell. I can detect a bit of sandalwood as it dried up a bit. Definitely an interesting fragrance.

My bottom line: this is a perfume that's quite far away from my olfactory comfort zone. I would love to get a sample or maybe a mini size to try a bit more before I decide to buy. It's definitely not a typical floral perfume at all and since not many people wear Celine Dion perfumes these days, it's almost a guarantee that this perfume will stand out in the crowd.

That's it, my report of the journey to Wally World. And it makes me wonder who among the celebrities that do not have a perfume. It's another post on another day.

Have fun and smell lovely,

Your Makeup Blogger